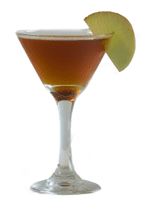 Whether you're looking to make a toast during a celebration or simply kick back after a long day, our apple cider concentrate can come in handy here too. The rich sweetness of natural apple cider pairs well with various liquors, such as brandy, vodka, and rum. As such, it's easy to find a combination that not only warms the soul, but the mind and body as well.
Our collection of alcoholic apple cider recipes features a range of beverages to sip and cherish, from cocktail concoctions to a simple spiked and spiced party cider. No matter the reason for pouring yourself a glass, all our hard cider mixes give you a beverage that'll up your drink game and match the occasion.
If you want to toast to festivities, our Holiday Party Cider gives you a fun, fruity flavor with splashes of rum fit for a seasonal gathering with friends and family. Or try mixing up our Sangria recipe with an apple cider twist. To further impress your guests, serve up some of our creative cocktails. These fancy, spiced, and mouthwatering drinks are perfect for any soiree or special occasion. Plus, they exude a festive spirit that'll wow your fellow partygoers during Thanksgiving dinner, Christmas gatherings, and any other holiday get-together.
Prefer something simple and easy to make? Check out some of our three-ingredient hits: the Hot Apple Pie, Siberian Belly Warmer, Broken Leg, and Hot Buttered Rum. With our cider concentrate, some hot water, and a dash of liquor, you can quickly whip up a drink full of rich tang. You don't need to be a professional bartender to craft a fancy refresher. You just need some liquor, apple cider concentrate and a good alcoholic apple cider recipe to follow.
We've spent ample time collecting a series of spiked apple cider recipes for you to serve to guests or enjoy yourself on a cozy night in. However you choose to savor your drinks, these alcoholic apple cider recipes give you a libation for any toast, evening in, festivity, and mood. As always, apple cider makes exceptional company, keeping you snug, happy, and satisfied. Best of all, we're always searching for new drinks to add to the list. Make sure you prep your home bar, especially with some Mountain Cider apple cider concentrate, because these apple cider cocktail recipes will keep you coming back for more.