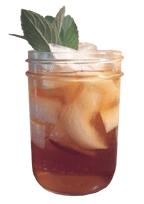 While many enjoy apple cider as a warm drink that keeps them cozy on cold fall and winter nights, that's not all it's good for. In fact, there are plenty of ways that you can enjoy this spiced drink cold. Whether in the form of a refreshing glass of tea or a smoothie, there's no denying that our cold apple cider recipes make it possible to enjoy this drink in the warmer months. Below, we've compiled a series of chilled apple cider recipes, each designed to cool you down in the sun and transcend seasons with just a sip.
If you're craving the sweet taste of apple pie on a beach, your dream has just become a reality. Our cold apple cider recipes allow you to relish the mouthwatering flavors of apple cider year-round and at any destination. From poolside hangouts to your annual family barbecues, these chilled cider concoctions taste great no matter where you enjoy them.
Aside from inspiring you to create refreshing warm-weather beverages, our cold apple cider recipes also enhance your drink selection with some healthy refreshments. Smoothies and teas are a delicious way to enrich your body. Smoothies deliver much-needed protein after a workout, providing you with a blend of health-boosting ingredients, And teas soothe your body and mind. For a revitalizing and refreshing punch, try our rich Spiced Cider Switchel.
On the flip side, these cold cider drinks also make sweet dessert refreshers. Drink up an apple pie in the form of a milkshake, celebrate with a nonalcoholic cider cocktail, and drift off to sweet-tooth heaven with our cider ice cream float. There are so many ways to savor these cold cider recipes, whether you want a tasty, effervescent beverage or candied delight.
For those days where you just want to sub out the water for something different but still simple, try our Apple Raspberry Cooler and Sparkling Cider. Both include simple ingredients, providing you with a quick, easy, and flavorful refresher to stir up.
If you've tried all our cold cider drinks—which we highly recommend—don't fret; more is on the way. We collect new cold apple cider recipes all the time as well. As such, there will always be new options to try out. Or if you have a favorite cold cider creation not listed or an adaptation, we'd love to add it to our collection. Just drop us a line. We enjoy trying new recipes too.